Try Dive
If you are unsure if Scuba diving is for you, it would be wise to have a try dive.In the safety of the pool you will be able to take a one to one session with one of our Dive Instructors to give you a basic introduction to diving at a rate you are comfortable with.
Whats involved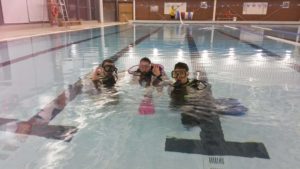 You will be introduced to and experienced instructor, and there will be the opportunity to ask questions and highlight any concerns that you may have. You will be fitted with a mask and fins and basic scuba equipment consisting of a bouyancy jacket, cylinder containing air and a breathing regulator. You will be given a poolside explanation of the equipment, and shown underwater hand signals and safety procedures in readiness for your dive. Entering the pool at the sahallow end you will be introduced to basic diving techniques. At all times you will be under the watchful eye of the instructor, and as you gain confidence you will be able to swim around.
After approximately 45 minutes of instruction you will have completed your try dive, and we will welcome you to visit our clubhouse, see our boats and equipment and introduce you to other members.
Who can do a try dive
All ages are welcome, however a parent or Guardian must be present at all times for try divers under the age of 18.
How much does it cost
Your try dive session costs £20 per person and all necessary scuba equipment is included. Fill in the form on the website or email peterhall@bsac-153.co.uk or call Peter on 07874 696213
Where?
Palatine Leisure Centre, Lytham Road, Blackpool on a Wednesday evening from 8.30pm until 9.30pm.
What to Bring?
All you need is swimwear but we recommend bringing a t shirt. We will provide mask and fins, however if you have your own please bring them along. Similarly if you have a wetsuit and would like to wear it – bring it along.
Important
Every precaution is taken to ensure your personal safety during your try dive. We reserve the right to terminate any try dive should there be any reason to doubt fitness to dive or ability to take part.